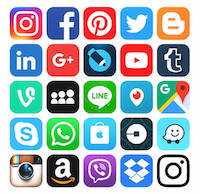 Wikipedia defines Social Networking as "build social networks or social relations with other people who share similar personal or career interests"

While traditional marketing techniques occasionally employed multilevel marketing or person-to-person marketing, the power of todays social platfoms such as Facebook, Twitter, Instagram and LinkedIn completely change this dynamic to allow the most powerful and easy self marketing.

The magic behind making social media work to market, is to connect a personal story and face to your product or service. Tiki Multimedia will help you tap into that personal story. Our team will help you build your following, manage events, sell products and connect everyone through the most powerful social media platforms.