Graphic Design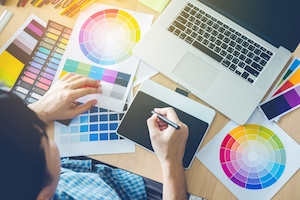 Graphic design is the creation of visual concepts, using software or by hand, to communicate ideas, inform, and captivate people. Development, layout and production design can be used for various mediums such as the internet, television, movies, social media, print, fashion and many others. Graphic design is employed for advertisements, brochures, magazines, and reports and each project requires a different perspective and often a different artist.
Whether your project demands screen printing, digital assets, branding, logo, web or print design - one of our experts will ensure you look great and your message can be seen efficiently and effectively.
Tiki Multimedia has a strong internship department allowing students to receive real world experience while under the guidance of industry experts in design.